Like many new hairstyle trends these days, the Wolf Cut gained traction on social media — more specifically on TikTok, which seems to be at the cutting edge of new haircut styles, hair styling tips and more these days. If you've come across this edgy new style while scrolling through your feed and wondered if you could pull it off, we're here to tell you that you definitely can.
Using the right texture hair products and seeking out the expertise of a professional hair stylist will help you achieve the perfect Wolf Cut or its up-and-coming little sister, the Cub Cut. Both these looks make a statement and are easy to maintain — regardless of your hair type.
First Off, What Is the Wolf Cut?
The easiest way to describe the Wolf Cut is a cross between a shaggy cut and a mullet. It features the same choppy layers that define a shag cut while also bringing in those shorter, wispy face-framing layers that give a mullet its signature tapered look. It's no surprise that this haircut is on the rise as the mullet and shag cuts have seen a resurgence in popularity over the last few years. It only makes sense to combine them into one. These edgier, less-polished-looking styles suggest that women and men are seeking more unique styles than in the past while also getting a cut that doesn't require too much maintenance.
Why Is the Wolf Cut So Popular?
The Wolf Cut's popularity can be attributed to two things: style and ease. The kind of put-together grungy look of this hairstyle gives the appearance of being both fashionable and laid-back — almost like you barely even tried to style your hair, but somehow it looks flawless anyway. And who wouldn't want a look like that? Although the Wolf Cut doesn't require too much styling time, it is essential to use the right products to hold the style, such as texture hair products and light mousses. These products will maintain the style's shape and keep that voluminous look without weighing down your hair.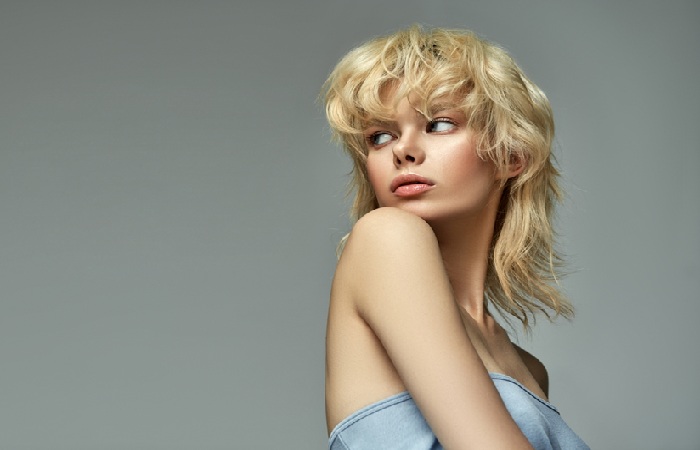 What Types of Hair Work Best for the Wolf Cut?
One of the most appealing aspects of the Wolf Cut is that it honestly looks good on everyone. Even if you feel like this look is a real step out of your comfort zone, it can work on any hair type or length.
The Wolf Cut on curly hair looks almost seamless as curls and waves add natural texture and body to a style that thrives on these attributes. With curly hair, you can ask your stylist to make the layers as dramatic or simple as possible. The curls can keep those layers tucked under other strands, giving it a more natural-looking body with a unique shape.
For those with straight hair, the Wolf Cut is also a great option. You can add choppy layers that will stand out, framing your face and adding more depth to your style. But with hair that is not as naturally textured, using texturizing hair products is important to keep the style looking fresh.
How to Get the Cub Cut Look
If you're looking for a less-dramatic Wolf Cut style, the Cub Cut is a great compromise. Instead of the bold, mullet-like shape, the Cub Cut features a more cropped look with shaggy layers. Before your next appointment, be sure to have reference photos to show, as this can help your stylist understand what length layers you want and how short you want to go. If you want to pair bangs with this style, you have plenty of bang styles to choose from!
Before committing to the look, make sure you are willing to put in the time to style the look — though it really doesn't require much more than applying the appropriate hair care products and getting a regular trim to keep the style looking fresh.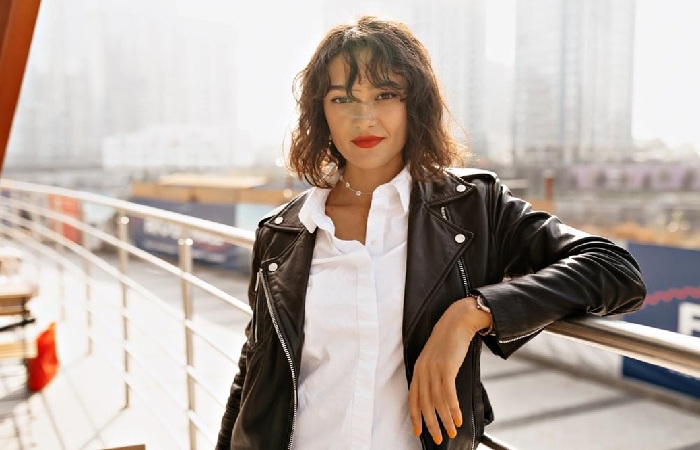 Tips for Styling the Cub Cut
Use texturizing products. Even for people with curly or wavy hair (which tends to have more texture), using a texture hair product will ramp up this look and keep it holding its shape. These products are typically light, so they won't weigh down your hair. In fact, texturizing sprays often add volume, particularly in between layers.
Avoid shampooing too often. Washing your hair with shampoo too often can severely dry out your strands, making it more difficult to maintain and style. Your scalp produces natural oils that your hair needs to stay looking shiny and gorgeous. Stripping your hair of these oils can have negative effects.
Avoid heavy hair care products with oils. Though your hair's natural oils are good for its health, heavy products with too much oil in them can leave your scalp looking greasy. Heavy products like these also weigh down the hair, preventing you from maintaining that much-desired volume.
Brush your hair with a gentle brush or a wide-tooth comb. Because the Cub Cut relies on a kind of shaggy 'do, it can be easy for hair to tangle — especially if you have wavy or curly hair. By making it part of your routine before bed to brush your hair with soft bristles or a wide-tooth comb, you can avoid breakage and pesky tangling. Using a round brush is also said to add a little more volume.
Get a trim regularly. With a hairstyle like the Cub Cut, it's imperative that you get a trim every six to eight weeks in order to maintain the shape and style of the cut.
Apply leave-in conditioner to ends. Avoid breakage and damaged ends by applying a leave-in conditioner to the ends of damp hair.
While we love the statement-making look the Wolf Cut gives off, you can't go wrong with the more tame Cub Cut. Both styles are shaggy and perfect for the warmer months. What style will you choose?